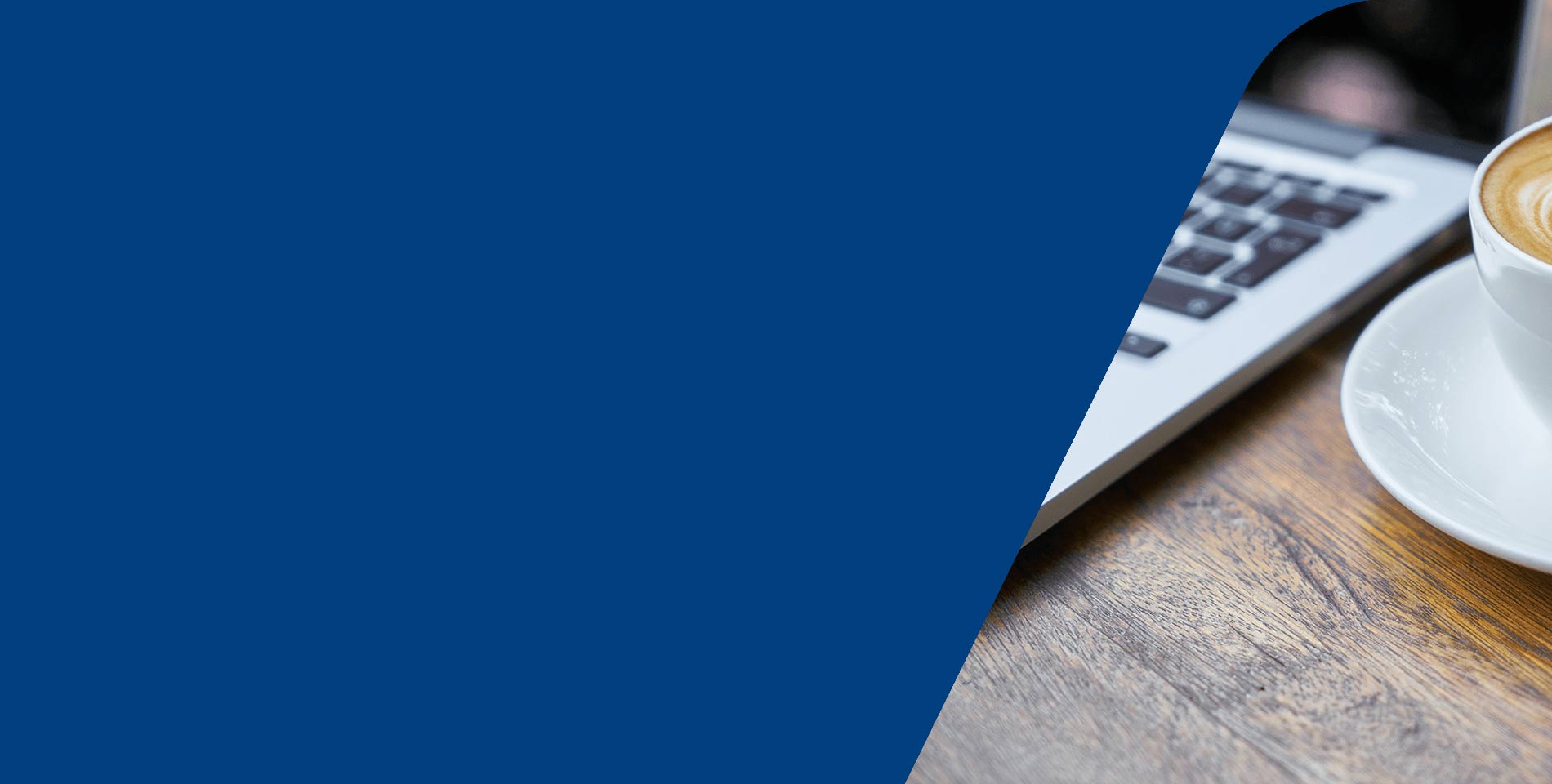 Streamline
your Frontline
Great CX means keeping your attention on what matters most;
your customer.
ContactSuite AX and SenseIQ Knowledge Management.
Simple. Powerful. Streamlined.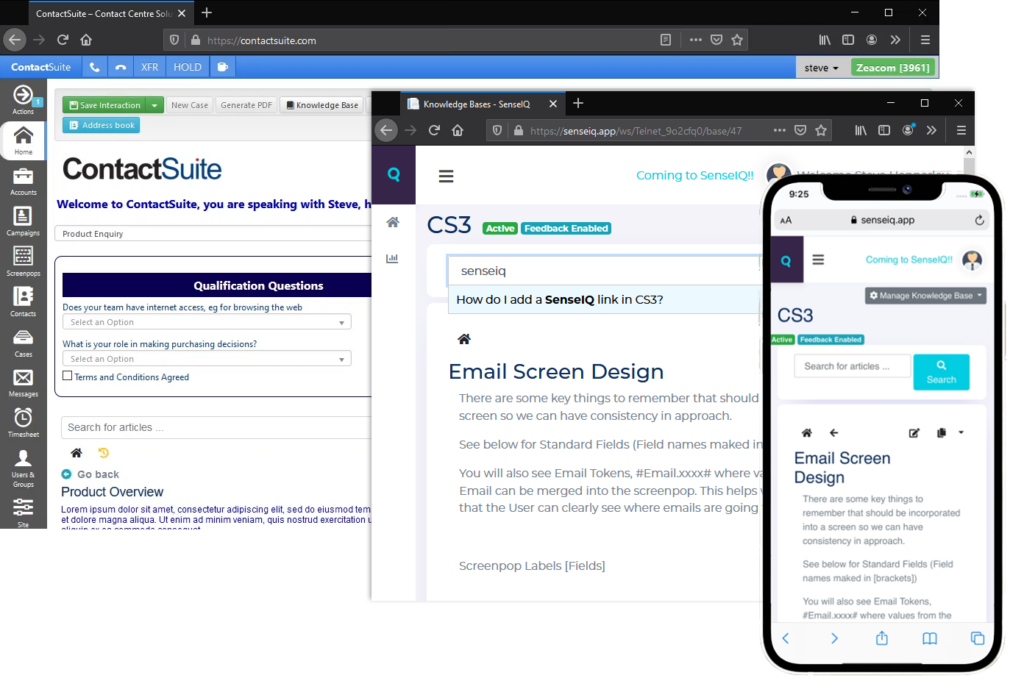 Focus on the Agent Experience
Great AX. Amazing CX.
The secret to the best Customer Experience, is making it easy for your agents to do their job.
Companies of all size are starting to understand that Employee Experience, or EX really matters across all aspects of business. At your frontline, it's your contact centre agents who maintain the vital direct connection with your customers.

Invest in AX, your Agent Experience, and amazing CX will naturally follow.
Automate process flows and scripting guide your agents
Hyper-personalise your CX
bringing together content from mulitple sources effortlessly
Simplify AX – Show only the data your agent needs, when they need it
Handle processes and tasks automagically in the background
Single Pane of Glass
Keep focus where it matters
Your frontline team should be working on providing an amazing customer experience rather than clicking through multiple screens and multiple systems.
Contact data automatically pops based on email or caller ID
Telephony and Data Integration into a number of popular platforms including Amazon Connect
Integrate scripting, knowledge management or third party data into a single interface

Knowledge Management
One of the secrets of amazing CX is the ability for your frontline team to answer every question. Following the principles of AX ContactSuite's SenseIQ knowledge management platform is built to do just that.
Standalone or integrated with ContactSuite AX, SenseIQ is the comprehensive tool to manage knowledge articles, decision trees, scripts and Q&A sets allows you to harness your organisational knowledge to prove the right answer, every time.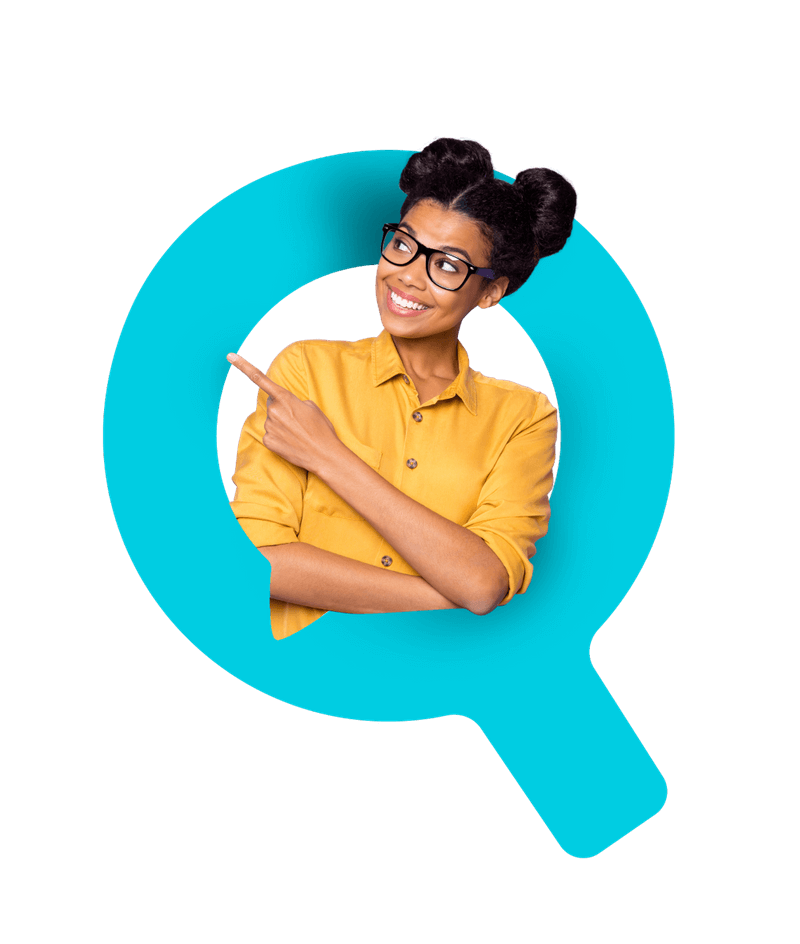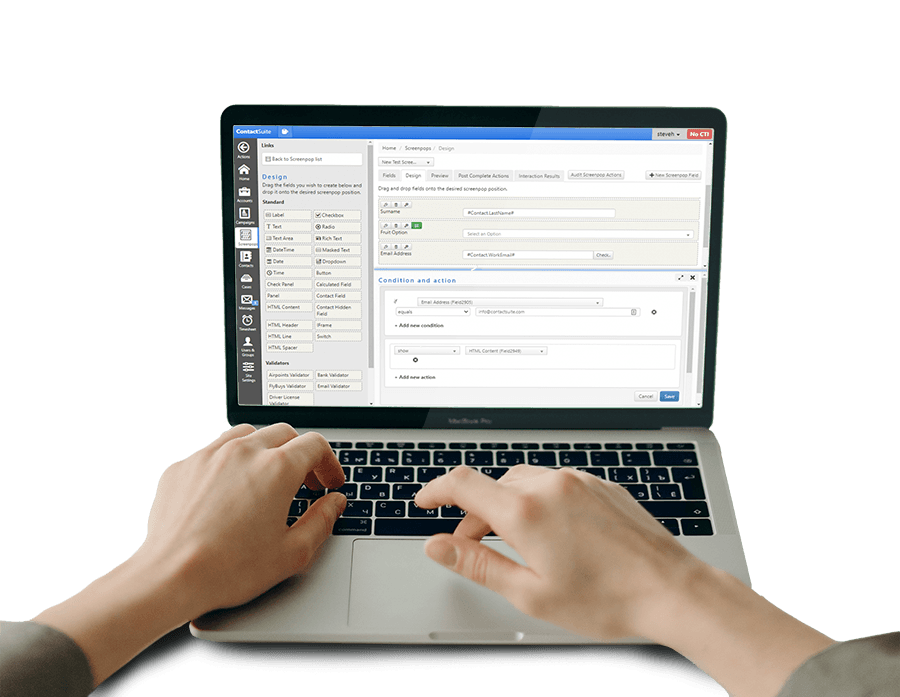 Easy To Customise Contact Forms
Let your tools do the work
ContactSuite AX makes it easy to customise and change what data your frontline is capturing allowing you to respond quickly to changes in your business. Using a drag and drop designer and simple if/then conditional logic, complex processes can be turned into simple step by step guided flows.
Drag and drop, code free designer makes it easy to create new contact forms
Add a new data capture fields in a single step for rapid change deployment
Powerful yet simple to use condition/action logic to simplify complex decision making
Pure Cloud Convenience
ContactSuite works over a standard web browser with nothing to install and nothing to configure on your users' devices
Built in CRM Features
Manage your customers' contact details, campaign history and interaction history with a few clicks
Ticketing and Case Management
Customer, Sales and Support requests can be tracked, managed and workflowed through multiple stages and staff for resolution
Total Customisation
Tailor your contact forms to make is easy for your frontline to follow scripts or processes. Embed or integrate third party tools to create the ultimate "single pane of glass" view
Knowledge Management
SenseIQs superior knowledge management tools brings your company knowledge to your frontline team, right there in the ContactSuite AX screen
Built for Integration
ContactSuite integrates with external APIs, telephony platforms and web applications to provide ultimate single source of truth
Flexibility and Business Continuity
Work. Anywhere.
The global pandemic changed how we work forever. Our home based and hybrid workforce is here to stay . ContactSuite makes it easy for your frontline to be distributed but still connected, with no hardware and nothing for your team to install or configure on their computers.
Pure Cloud Application
Nothing to install
All Major Browsers
and Devices Supported
Easy to Scale and Deploy
to Your Remote Workforce
Multifactor Authentication
for Peace of Mind